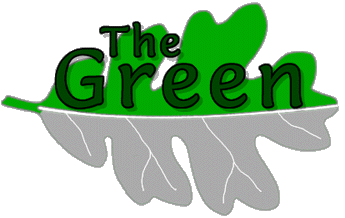 Greetings
The Green is our personal world wide web site. It contains information about personal experiences with links to things in which we are interested. Browse through the topics that are of interest to us, and possibly to you as well. Thank you for stopping by and taking the time to wander through The Green!
Ferrets
We have been owned by ferrets since early 1993, and currently share our lives with four of the little fuzzies. Ferrets have been domesticated for many hundreds of years, and are currently the third most popular pet in America. Follow this link for pictures of our ferrets, our experiences with ferrets, information about ferrets, and links to other terrific sources of information on these playful, energetic, personable, lovable, determined, intelligent little friends.
Mythological Booklist
This is a reading list and source list for a variety of mythological, cultural, and sociological subjects. Subjects range from the familiar ancient Greek stories to Native American tales, through Norse mythology, on to Christian and Jewish stories, wander through fields of German and other European topics, and far far beyond. Visit for a while if you're looking for a list of sources.
Rat Puck
Rat Puck (TM) is played at many Renaissance type faires, festivals, and historical recreation events. It is a game much like the Scottish game of golf, but much more fun! Instead of a ball and a club, Rat Puck is played with a rat and a stick. Ostensibly, the object of the game is to strike the target of the hole with your rat in the fewest number of strokes, and thereby finish all of the holes with the lowest total score. But, there's a lot more to it that that, so hop on over to the Rat Puck webpages and find out all about it.
Kerrin on Threshold
Kerrin is the character I play in an online game called Threshold. It's a text-based interactive game of high adventure in a fantasy setting. The game is quite a cross between a roleplay-intensive game and a hack-n-slash game. While going out exploring and besting opponents is always a fine thing, everyone stays in-character the entire time and there are many roleplay scenarios and stories that develop.
Thank you for stopping by, and come again soon to see what's new. Feel free to write to us with any comments, problems, questions, suggestions, or whatever -- we'd love to hear from you!
This web site is Copyright (c) 2010. All rights reserved. Rat Puck is trademarked (TM) by James R. (Jim) Greene, esq. All rights reserved.